Audi A6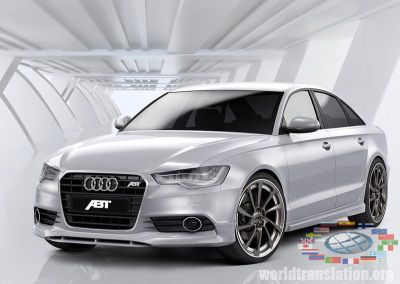 If the owner of the Audi A6 does not want to spend a lot of money for various improvements of the car, but tends to emphasize a little a sporty character of this model with a few details, then German company JMS Tuning can help with this thanks to its new package, which is not even got any name. For tuning the guys from the studio only offer the most effective parts such as wheels, some details for the understatement of the suspension and a new front bumper. All elements of tuning can be ordered together or separately.

Entire look of the car refreshed thanks to the spoiler in the front bumper . It can be easily installed on all models of Audi A6 in the 4F body, which were issued starting from 2004, but models equipped with the sports package S-line will not fit. You need to pay 200 euros for the front lip called «Racelook», which will not only freshen the car, but also provides less elevating force.

For 1100 euros the company will replace the factory shocks and springs with new coilovers, which is manufactured by a leading company KW. Thanks to them, you can reduce the ride height to a maximum of: 60 mm in front and 50mm rear. Lowered suspension provides additional sportiness, and also improves stability at high speeds.

New 20-inch wheels Oxigin 14-Oxrock are wrapped in a high-performance tires of 265/30 size. I will need to pay 3000 euros for a set. The standard wheels painted in black and steel color, but according to the customer you can choose any color.

The company also offers a sport exhaust system, elements of the aerodynamic body kit, filter of zero resistance and details for the interior tuning. Orders can be made in all representatives of JMS Tuning company.
Video: "Audi A6 test drive"