McLaren MP4-12C Spider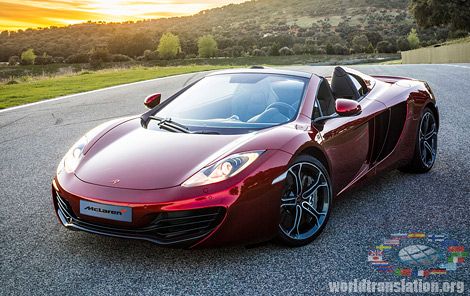 McLaren Automotive company has told about the open version of the MP4-12C — Spider super car. The new model is equipped with a folding carbon roof, which can be removed to the department chairs at a speed before 30 km/h. This process takes just 17 ​​seconds. Due to the unit responsible for the folding roof, the weight of McLaren MP4-12C supercar increased by 40 kg, compared to the coupe model. Roadster is also equipped with wind screen and a system that protects passengers in rollover.
McLaren MP4-12C Spider is equipped with a 625-horsepower V8 engine in volume 3.8 liters, and robotized 7-speed gearbox with 2 couplings. The new model accelerates to "hundred" for 3.1 seconds (as well as the coupe). Maximum supercar's speed with a raised roof is 325 km/h, and without a roof - 313 km/h.
McLaren Company has already received orders on a new supercar. Prices for the car start at 245,000 euro. This is 25,000 euros more expensive then coupes and 500 euros cheaper than one of the main rivals - Ferrari 458 Italia Spider.
Video: "McLaren MP4 12C Spider"