Kia Cerato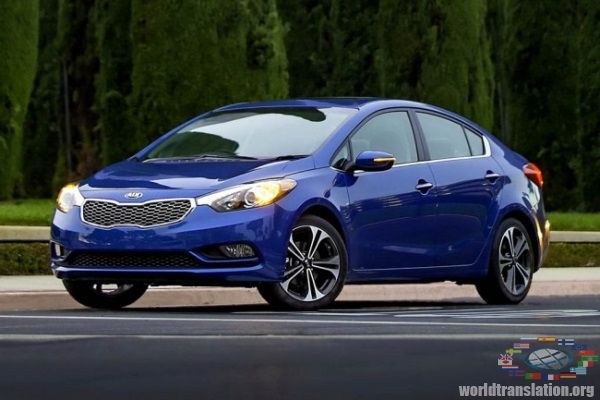 Korean company Kia introduced its latest development - updated Cerato. What at once can be said about it?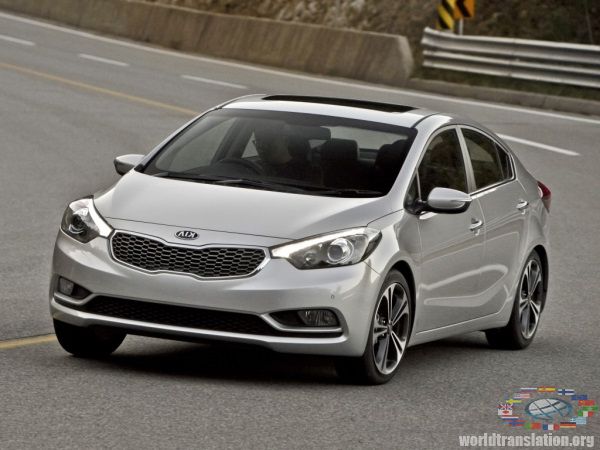 First of all, the Koreans are now able to interest with their design. If you could walk pass the previous version of the same brand, then it will not be possible to indifferently walk pass the hero of this review. Want to stop and examine it from all sides. Second, it looks like a Ford Focus. Anyway, many cars today are similar to each other.

Designers long time could not come up with, how to update the body of the next Cerato and decided to cautiously step on it by a large virtual shoe.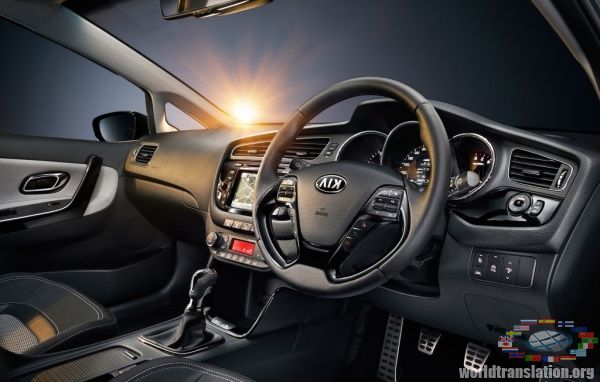 Slightly flatten it. As a result, the new product became longer by 30 mm and constitutes 4560 mm, wider by 5 mm (1780 mm). But these changes are absolutely imperceptible from the outside. But from the inside is quite another matter! On driver place in the legs has become by 13 mm more space and on passenger place - by 37 mm.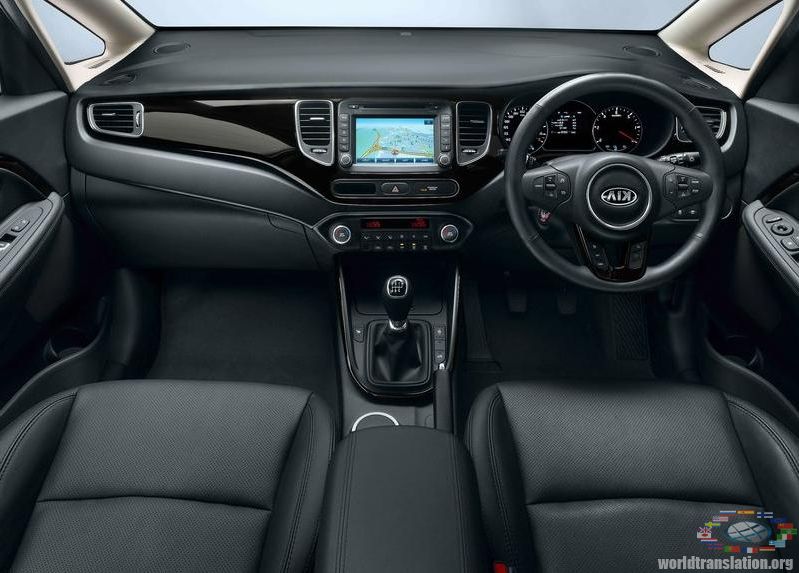 The first thing you notice in cabin - its turned to the driver 4.2-inch screen of multimedia system with all adjacent buttons of the central panel. All devices are clearly visible and easy to read. The design of steering wheel also became better. Additionally it has an additional functionality along with controls of Steer Wheel. Who does not know, this electronic assistant is responsible for the effort while turning the steering wheel. It has three modes: Normal, Comfort è Sport.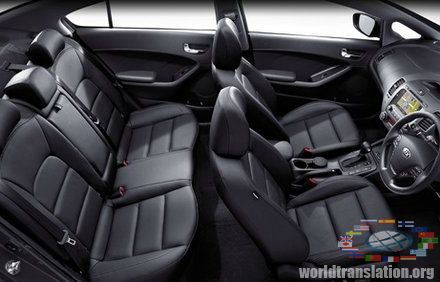 Lets look a cabin further: plastic became relief in the doorway and above the glove compartment . This idea designers named "Soft wave". Its a quite good solution - it looks advantageously and interesting. Plastic is soft and pleasant to the touch, except furnish of doors, which manufacturer equipped with soft pads for the elbow joints.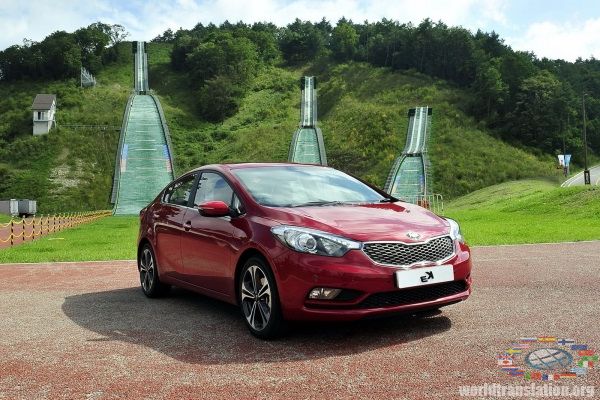 New Cerato can boast by heating of all seats and steering wheel. This is very useful in our regions function, which you will not meet even in many cars of higher class. In the cabin there are inserts under carbon, but, in my opinion, they do not look very good. One gets the feeling that this is not a new car, but someone's "pumped car".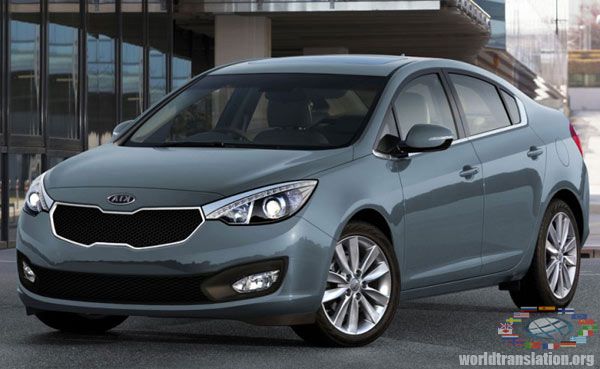 With observability everything is in full order. Perhaps the developers have even overdone: additional windows, from which there is no any sense had appeared in the front doors. In order to use them, you need to lean forward and stare wide-eyed. But in the rear doors "embrasures" have become larger, consequently it seemed more space, became lighter.

Under the loud applause of society for protection of animals in our country, Cerato will not able to boast with leather interior. And its not because of love for the little animals. Research has shown, that we rarely buy cars of this class with leather cabin. Therefore manufacturers even decided, that we also don't need seats ventilation and hatch.


With regard to engine, then the new Cerato has two: 2-liter with 150 hp, which is capable to accelerate the car up to 100 km/h for 9,3 seconds, and 1.6-liter with 130 hp. It seems, that the difference of only 20 "horses" is not significant, but the 2-liter Cerato is faster, and you can drive on it, even with automatic transmission.

Suspension proved to be less hard, and if the road in front is not felt very much, then from behind - throws up well. But to controllability there are no claims - even in high-speed turns a new Kia Cerato feels itself confidently. Is worth noting comfortable chairs here, in which you do not hanging out, and the body doesn't become numb on long distances. In addition, the driver's seat can remember two positions.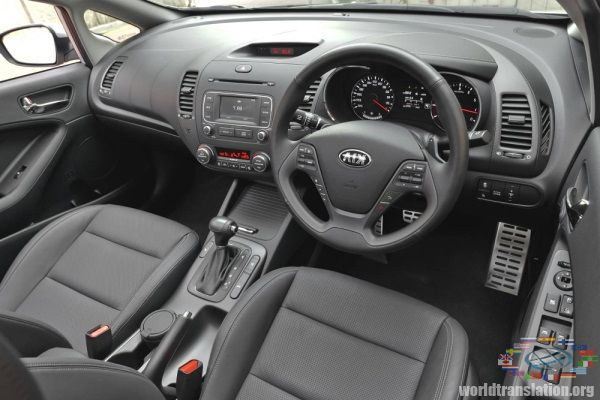 By the presence of fashionable pieces Cerato keeps the brand. Here are: welcome backlight in the mirrors and door handles, warning system of emergency braking, multimedia system with support for all necessary for today ports. There are parktronic sensors in the front and rear bumpers, and headlights shine with adaptive xenon. Trunk increased by 6 liters and now is 421 liters.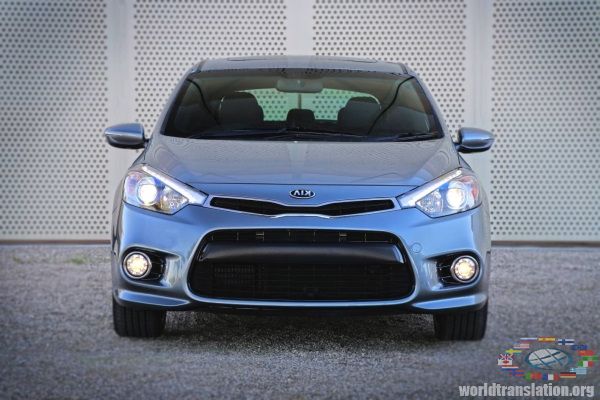 So, the new Kia Cerato gone right on glory. Interior and design significantly will help it to win a new customers and not lose old. The undeniable advantage of the new Cerato is its luxurious guarantee - this Korean will be for free repaired within 5 years or until it has clocked up 150,000 miles. What will be the reaction of our market we will see in March, we just have to wait.