Samsung Galaxy Note 10.1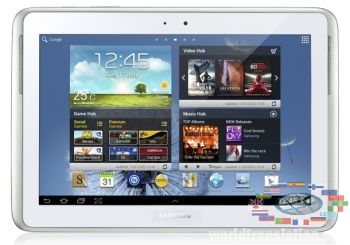 For the first time Samsung Galaxy Note 10.1 was presented to the public at the beginning of this year. At that timeit was reported that it would have 2-core processor, with a capacity of 1.4 GHz and 1 GB RAM. But the tablet did not come out on the market.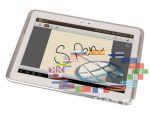 Also new iPad with its excellent screen was released in the spring. And ASUS competitors did not sit on the sidelines, and released the TF700. After analyzing the situation, the company decided to launch the Samsung Galaxy Note 10.1 with a more productive filling. Now has officially announced the release of the new Galaxy Note 10.1, which became the most powerful among the Android tablets.
Specifications:
- OS Android 4.0.4 with TouchWiz shell
- 4-core 1.4 GHz processor Samsung Exynos 4412
- 2 GB of RAM
- 16/64 GB of internal memory microSD support
- 10.1-inch screen with a resolution of 1280x800, PLS, 10-point multi-touch
- Wireless: Wi-Fi 802.11 b / g / n, Bluetooth 4.0, 3G, works with a standard SIM-card
- 5 MP main camera (flash, auto focus, video recording with 720p) Front - 1.9 megapixel
- Dimensions: 256,7 x175, 3x8, 9 mm, weight - 583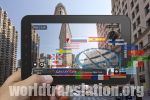 The design of the tablet is similar to Galaxy Tab. Tablet's case itself is white, surrounded by silver inserts on the edges. Perhaps, the tablet does not look as impressive as the ASUS, but still it is quite attractive. Case is rounded, details are perfectly fitted, the case is glossy plastic, as it was before. It is easy to hold it with both hands, as slippery plastic can contribute to device slipping. Or buy a special cover that protects against scratches and give confidence to hold it in your hands.

It has everything you need: a front-facing camera, brightness sensor, speakers located on the sides. The side ends have no any elements. At the bottom are located microphone and socket for the firm cable, which is similar to releases of the previous tablets. At the top are located: button for volume control, lock of the screen, slots for microSD and SIM-cards and Infrared port. Behind only the camera with a flash.

This gadget is equipped with a stylus, for which there is a special attachment at the case. It attaches securely and you can not lose it. You should only pull it out and automatically pops up a window where you can work with a pen.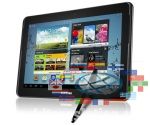 The tablet has a 10.1-inch screen with PLS matrix, which behaves like the model range of Galaxy Tab. Its able to handle 10 simultaneous touches and responsive and sensitive sensor behaves itself perfectly. Reserve of brightness and viewing angle are also good. In the room, it perfectly copes with its functions. You can play or work, watch movies, or draw.

It has a drawback - a very modest for today resolution - 1280x800 pixels, especially towards competitors: Acer, ASUS and of course Apple, in which is not observed FullHD graininess. It is not good on the street. Gloss pales in the sun , and the light is not enough. So laurels of the "street" tablet rightfully belong to ASUS TF700 Infinity and his regime IPS +.

As for the filling, there is nothing to complain about. The world's first four-core tablet with a powerful filling. The processor is similar to the flagship Samsung Galaxy S III. The frequency of 1.4 GHz and 2 GB of RAM. Graphics accelerator, Mali-400MP allows you to play any modern games. By results of tests it bypasses all its Android-competitors and by the smoothness of work is maximally close to Apple iPad.

In terms of memory, the version with 16 GB has available only 12 GB. And with the memory card it can be expanded to 32 GB.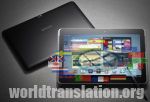 The tablet has a pretty impressive reserve of work, due to the 7000 mA * h battery. It slowly discharges, and when you are actively working, it lasts the whole day. At the minimum screen brightness mode, it lasts for 12 hours of continuous work.

With the Samsung Galaxy Note 10.1 you can confidently say that the Android- tablets became fast. Tablet has no brakes, everything works smoothly and quickly. The assembly is also well thought-out. Minimum weight and thickness. Performance at the highest level. Tablet has a great music player and quite loud speakers. Of course, the tablet has turned expensive, but powerful. It has everything needed to be to the taste of the consumers and show quite a good sale.
Video: " Samsung Galaxy Note 10.1 Review"