English courses at IELS – number 1 of the best language schools in Malta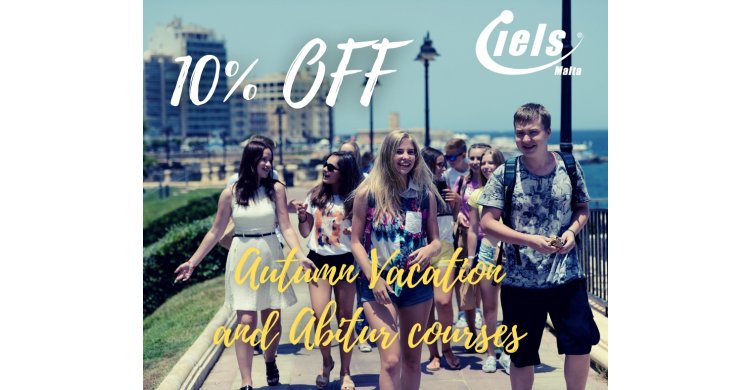 Ask me what is the best way to learn English? And I will tell you: study English in a country where it is spoken. It doesn't have to be the UK or US. Malta is considered as the best place to study English offering value-for-money English courses and British quality of teaching at the same time.
Don't miss the chance to book high quality English courses in one of the most beautiful English-speaking countries at the best rates. Would you like to develop your practical oral and written skills to the next level of fluency or became completely fluent in English, here you will find a decision.
Academic Semester
This 20 or 24-week English course for adults with accommodation in a student residence located just within a 7 minute walking distance from the school is a long-term program offered at a special exclusive rate. It is aimed to raise your language skills at least two or three levels. You will become a different person after living in Malta and learning English in a relaxed friendly and picturesque place that will motivate you to communicate, practice your English skills and study. Interesting people from different parts of the world, clubs and beaches, historic and cultural sites will keep your interest and motivation driving your study process.
Academic Year
These 36 and 48-week English courses are an extraordinary experience. Living and learning English in Malta you will achieve fluency, challenge yourself and build long-term friendships with people from all around the globe. Is your goal to go to university or get that job? Maximise your time to make the progress and achievements in developing your language level.
English Camps for Teenagers and Kids
Discover everything that the island of Malta has to offer. Beautiful beaches, crystal blue water, centuries of history and chilled out Mediterranean vibe. Young students get to explore exciting places such as Valletta, Mdina, Marsaxlokk, the most beautiful beaches around Malta and go on a harbor cruise. You can rest assured that young students are well looked after. Members of staff or responsible adults are available 24/7.
There are summer, autumn and spring camps for teenagers 13-17 years of age and summer camp for 8-12 year old kids. There are two English programs available for teenagers with 20 or 30 lessons per week. It is possible to book a full package including English tuition, full-board accommodation, activities and transfers or day program without accommodation.
But it's more than that. You will study in one of the best language schools in the world. And it is more affordable now than ever. Just see special deals: http://englishinmalta.ru/mobile/sale.shtml
The largest and one of the top English language schools in Malta
English courses for adults and English camps for young learners 8-17
British methods and quality of teaching standards
Over 35 years of success
54 nationalities in the past years
Special deals available through "Malta Smart" - one of the key IELS representatives
Direct payment to IELS Malta
Travel to Malta
Travel between Malta and specific corridor countries has resumed as of the 1st July 2020. Quarantine on arrival to Malta will not be applicable to those traveling from these countries. The current list of corridor countries is updated regularly and includes:
Andorra, Australia, Austria, Belgium, Bulgaria, Canada, China, Croatia, Cyprus, Czech Republic, Denmark, Estonia, Finland, France, Germany, Greece, Hungary, Iceland, Indonesia, Ireland, Italy, Japan, Jordan, Latvia, Lebanon, Liechtenstein, Lithuania, Luxembourg, Monaco, Morocco, Netherlands, New Zealand, Norway, Poland, Portugal, Romania, Rwanda, San Marino, Slovakia, Slovenia, South Korea, Spain, Switzerland, Thailand, Tunisia, Turkey, United Arab Emirates, United Kingdom, Uruguay, Vatican City.