Cossacks characterniki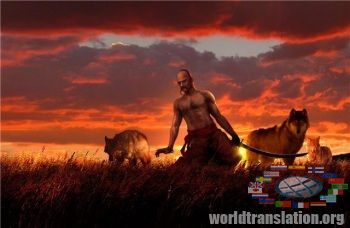 Zaporizhzhya Sich is one of the sights of history of Ukraine. She wrapped by hundreds of legends and tales. Zaporozhian Cossacks themselves seem to us as a very brave, courageous and skilled warriors. The fame of which swept through the centuries. Among the Zaporozhian Cossacks were the mysterious warriors who were called characterniki. These were the Cossacks, who had an extraordinary, inexplicable abilities.
What distinguishes them from other Cossacks? First of all - a way of life they led. Some Cossacks had such supernatural powers, as: the ability to transform into animals, walk through walls, hear and see from a distance.
What now we know about characterniki?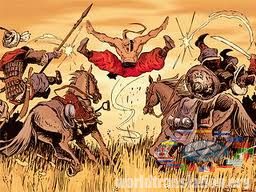 From the stories of old-timers and written sources, in our imagination emerges a unique image of the Cossack, who can do supernatural actions. Characterniki ( Cossack-magicians) people also called galdovniki (from ukrainian word Galdovati - conjure) or zamorochniki, himorodniki - via their ability to direct: daze, sleep, and fog on people.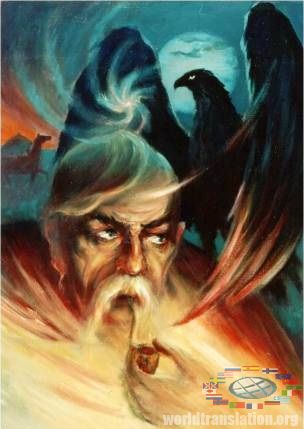 Names depended on activity of the Cossack- characternik, his level of training and skill. These were Cossacks, who had psychic abilities. They were telepaths and clairvoyants, who knew how to hypnotize. They could go to the tavern, get drunk there, and then leave without paying for the drinks, and how to leave - with change from the alleged paid money. People say that some of characterniki lived more than 100 years.
Who was characterniki?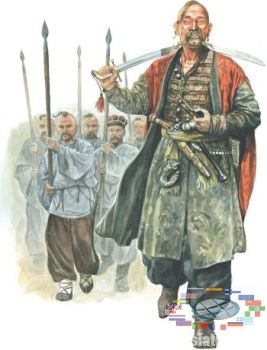 Cossacs began to to trained Characterniki almost from their birth. Possessing some knowledge, older Cossacks could distinguish what was laid down in the baby from his birth. So this boy, became Djourou of older wise Cossack for a long time. But the word Djourou (servant) does not explain the responsibilities of this boy, is only known that boy studied ancient knowledge near the teacher. That was the process of training of young Cossacks. You will ask why? Because spiritual mentor taught his disciple, the knowledge, which he received from his own teacher.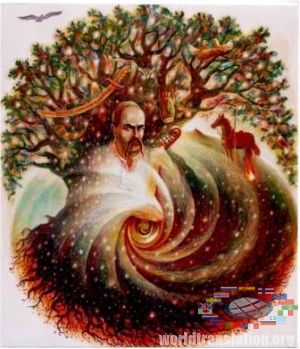 It should be said that the process of training lasted for many years. What had characternik to learn? What were his duties in the army? His duties have been developed over many years of cognition of the surrounding world. Often they were healers, provided emergency assistance in the battlefield, and and took part in the subsequent treatment. To heal the man, who was wounded in the battle, characterniki firstly released him from the souls of killed enemies, and they did it with the help of special rituals.
Characterniki were Cossack elders, guarded culture of Zaporozhian troops, guarded the ancient traditions, let into Cossacks. They kept part of our history through the epic-songwriting. So the spiritual experience of ancestors passed to future generations.
That they could and knew?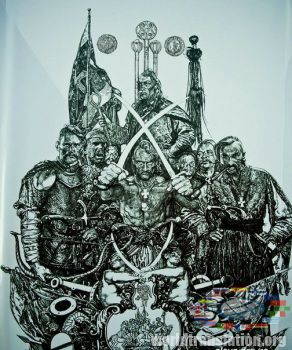 Characterniki could and knew a lot. They were the elite troops - chosen. Due to their supernatural abilities, characterniki managed their psyche - entered into a special state of mind , which allows them to make incredible things. For example, to direct "Mana" on enemies.
In many of Cossacks battles were recorded fantastic events. For example, after a battle Poles have rushed after the Cossacks. The Cossacks could not hide in the open field.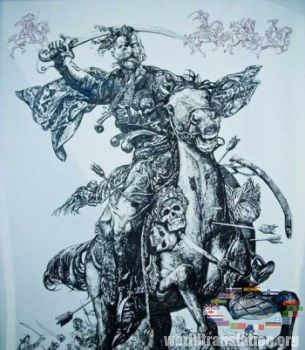 Here Cossack- characterniki came to help. In the middle of the field they put the spears on a circle and due to efforts of spirit and will, they entered in some kind of psycho-energy state. In this case, everything what they thought about - became a reality. So what been happening then? In the middle of the field enemies saw the oak grove, where Zaporozhians supposedly hid. Poles turning around and came back. This is an example of so-called "Mana".
In the history is also known such a case, when Cossack's colonel Ivan Bohun at night held his army through the Polish camp, so that no dog began to bark.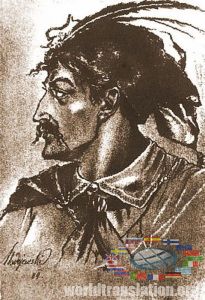 Cossacks had some methods for detecting the enemy. They invented "Screams". Cossacks took the reeds, then they dipped them in wax and water, and then screaming with their help. Wax memorialized the scream. Cossacks scattered these reeds throughout the steppe, waiting for the enemy attack. When their enemies appeared in the steppe, their horses stepping on scattered reeds began to scream frantically. Cossacks, who were on watch had heard the noise and transmit an alarm signal.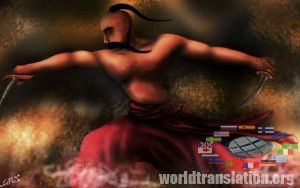 Zaporozhian Cossacks were skilled sailors. They can stay under water for a long time with a small reed, hiding under the barrel or boat. Through this, appeared rumors that Zaporozhians have invented a submarine.
Also people attributed incredible magical powers for the Cossack leaders. People say that they could see everything that happens in the enemy camp, by looking at a special mirror. Those Cossacks- characterniki, who befell the ancient knowledge and secrets, became invincible - nor bullet, nor saber take them. They were the best soldiers, scouts.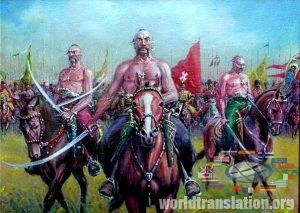 From characterniki at the time of Cossacks were formed groups of Plastuns. These were the special forces (spetsnaz of that time).
Skilled warriors, brave and freedom-loving, hardy, smart, strong and handsome, they all had the luxury long forelock (Oseledets). Characterniki were: atamen, hetmen, colonels. Among them: Gregory Sagaidachny, Zachary Chepega, Simon Paly, Dmitry Vishnevetsky-Baida, Samiylo Kishka, Ivan Pidkova, Ivan Bohun, Maxim Krivonis, Severin Nalivaiko and the most powerful Cossack characternik - Ivan Sirko.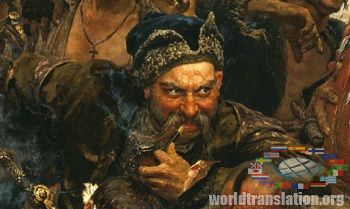 People said about Ivan Sirko, that he put his hand under the saber strike, and only blue trace remained after the strike. Also, people said that Ivan Sirko, could turn into a white Khort (wolf), could put to sleep. He was an extraordinary person. Zaporozhian Sich became famous, exactly during his life.
Zaporozhian Cossacks said that formerly there was not equal to Ivan Sirko, there is no currently, and never will be. People said that Sirko was the greatest sorcerer. No wonder the Turks called him Shaitan... Even after his death, Poles and Basurman were afraid of him for a long time. In the most important battles, Zaporozhian Cossacks carried ahead of their troops a severed right hand of Ivan Sirko. And where was this hand - anywhere in the battle Cossacks were accompanied by fortune.