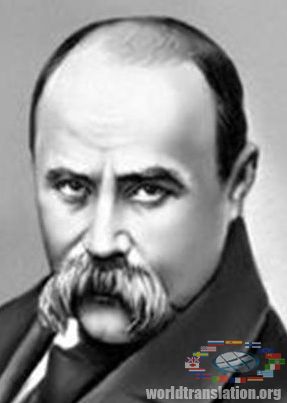 Translation of the Taras Shevchenko poem Dumka.
Taras Shevchenko poem Dumka dates from around 1838, on the basis of the notification of E. P. Grebinka in a letter to G. F. Kvitka-Osnovyanenko from November 18, 1838 about the transfer of Shevchenko's works for publication in the anthology "Swallow": 1838, St. Petersburg. Four poems were merged by the title Dumka: "Water flows into the Blue Sea...", "Violent wind, violent wind! .. "" It is hard to live on ... "and" Why do I need black eyebrows ... ". Taras Shevchenko poem Dumka spread in manuscript.
Poem Dumka

Water flows into the Blue Sea,
But it does not flow out;
Cossack is looking for his share,
But he has not fate.
Cossack has gone where eyes look;
A Blue Sea plays,
Cossacks heart played,
And thought says:
"Where do you go without asking?
To whom dropped
Father, old mother,
A young girl?
In a foreign country are not the same people
It's hard to live with them!
There will no one with whom to cry,
No one to talk."

Cossack is sitting on that side -
A Blue Sea plays,
I thought i will meet a fate, -
But a grief happened.
Cranes fly home
in key formations.
Cossack cries - paths are broken
Thickets with thorns.
Listen poem Dumka
To add comment, please, authorize.
Authorize using