Opera House in Sydney (Australia)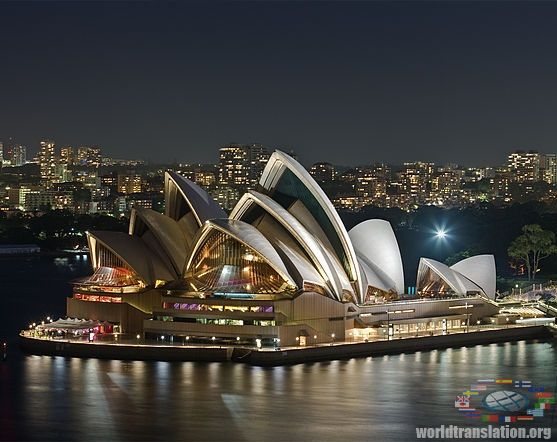 Australian theaters - are the work of art. Take, for example, the Sydney Opera House. What it just did not compare with: 9 long ears and magical galleon, which floats in the elf country, with the whale, which was washed up on shore, the music which froze about which wrote Johann Wolfgang von Goethe, with 9 nuns that play football...

Sydney Opera House is the visiting card and a symbol of the city, an architectural marvel and perhaps the most famous and recognizable buildings of the 20th century.

The history of this unique and magnificent building starts in 1945, when the composer and violinist, Sir Eugene Goossens arrived in Sydney to record a series of concerts. Goossens was surprised when he discovered that the city does not have a building that is suitable for concerts (exception was a small town Hall, which had bad acoustics). Add here a delightful panorama against which Sydney is located... and you will understand why Sir Goossens so fervently began to look for a place for ballet, opera palace, and concerts.

And he found a place in harbor at Bennelong Point. However, there was initially tram depot... But this little fact did not stop very enthusiastic person!

Goossens "infected" "powers that be" with this attractive idea. And in 1955 the permission to build was received (but it was a condition that construction of the theater does not need the money from the Australian Treasury) and was announced an international competition to create the best project for the theater.

The project of Jorn Utzona - architect from Denmark won the competition. His idea was to completely remove the wall, and attach the roof like a sail directly to the podium, it immediately won the hearts of strict jury.

Construction of the Opera House would like to finish in four years and planned to spend 7 million Australian dollars. But, as the daring plan technically was very complicated for that time, the construction lasted for ten years longer, and cost 102 million!

All of this was the reason for the resignation of a very talented architect and other people were involved for interior designing. As a result: the original idea of the theater with a large stage and a stunning interior come to nothing...

Today the Sydney Opera House soars high above the water - there seen an expressive contrast between only one of its kind, unique structure and expressionless outdated interior...
This is another sad story about how the money won the real art.
Video: "
Sydney Opera House

"