Interior: Gold.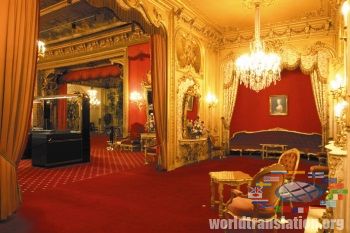 Gold fits perfectly into any style: modern, classical and, in particular, eclectic. "Gold Interior" means not the widespread use of gilding, but in some detail. Everyone knows that gold is a value, which was tested by time and true luxury - it is a delicate taste, restraint and sense of measure.
Furniture with gilding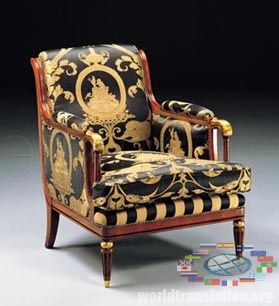 The classic application of gilding on wooden furniture is still actual, but the bright yellow color of the metal changed to a more muted and darker shade. Conventionally it can be called "old gold." It can be shiny or matte, like faded. "Minor scrapes" on gilded furniture became popular. Also, brass that reminds gold by the glitter and color is using instead of such decoration.
Gilded frames for photos and pictures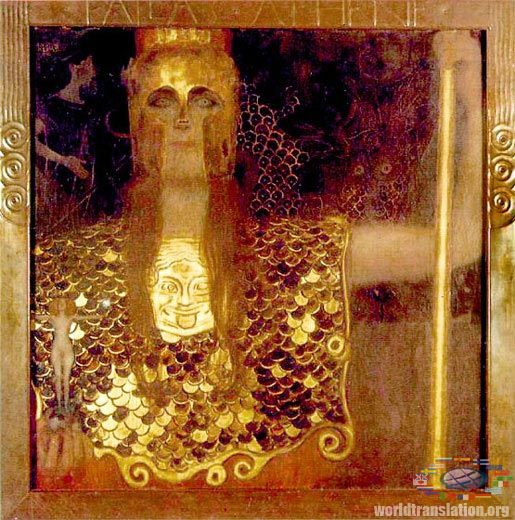 The picture, posters and photos in gilded frames will help to make your interior completed. You can also randomly hang frames themselves. The solid black wall will serve the most dramatic background. Black-and-white photos and graphics look very nice in a gilded frame.
Golden mirrors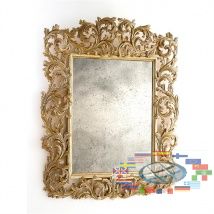 Gold and a mirror is one of the most classic combinations. They both, though in different ways, are able to reflect the world around us. Play around with these reflective and shiny surfaces: a large mirror in a classic frame above a dressing table, sun mirror in the fireplace area or screen, made of aged mirror plates in the gilded frame.
Gold chandelier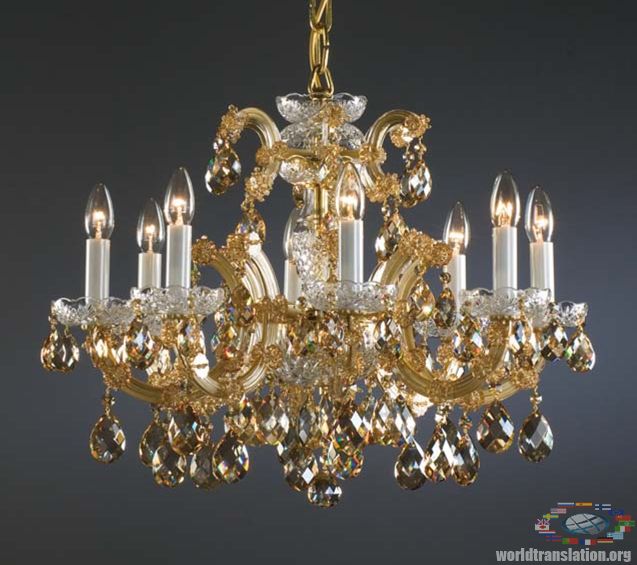 Long time ago the big gold chandelier must necessarily be present in the luxurious interiors. In the modern design it is less curvy, but very original variations: chandelier-cap in a minimalist style, painted with gold paint from the inside, or a chandelier with glass beads with gold, like woven of many threads. In any case, you are provided with the play of light and color.
Gold on the wallpapers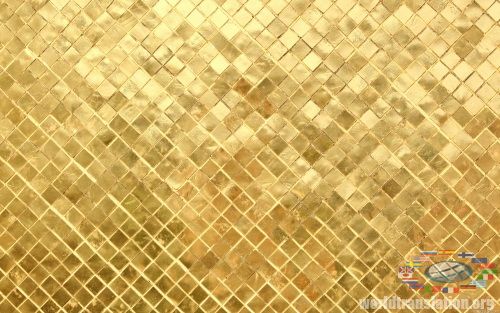 Modern wallpaper with gilding looks almost weightless and did not seem to be solemn and artsy. The picture itself is also quite giddy: has floral and plant motifs.
Gold in the kitchen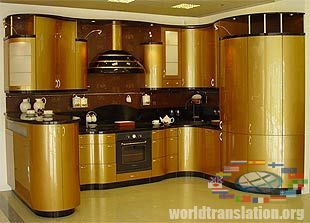 In this room gold was used on the handles and small chandeliers above the working area. The most immodest variant can be the door of pantry, covered with gold, and an apron of gold mosaic.
Gold in the bathroom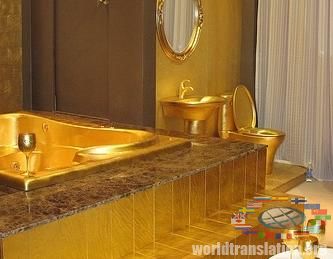 You should not hesitate the golden surfaces in the interior of the bathroom. Also do not forget about the measure. This may be a golden wall in the washstand area or a large mirror with a forged gilded frame. But the golden bathroom looks more impressive against the background of minimalistic walls, made ​​of natural stone.
Gold and other colors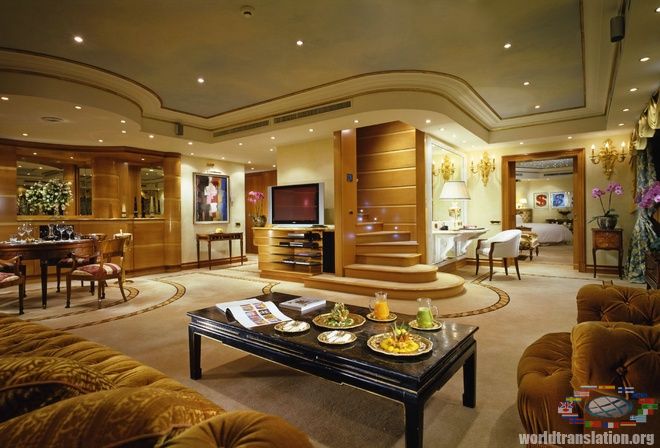 The golden color perfectly complements the monochrome interior. It attracts a lot of attention, smoothing the contrast of black and white in this case.
The combination of gold and gray shade can be called "a little sun in cold water." Gold details look very elegant in a homogeneous space, which a gray color creates. This combination can be used as the grounding for a desk lamp, the classic console or massive frame for a mirror.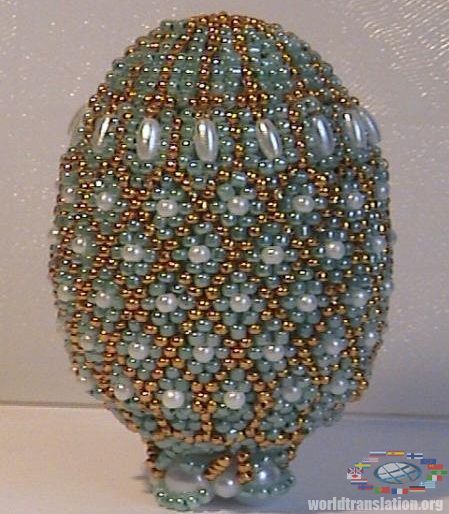 " Gold and Chocolate" - a phrase reminding the magic formula, which causes the most pleasant associations with comfort and warmth. This combination is better to use in the interiors of office or bedroom.
Unusual solution: a combination of turquoise and gold. Deep and rich turquoise or gentle pastel shade perfectly combined with gold glitter.
Gold as an art object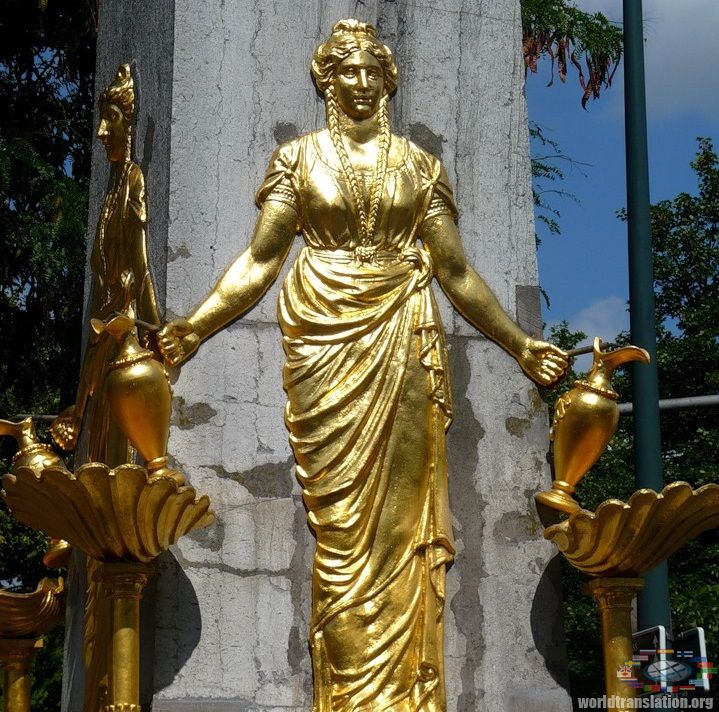 Fans of modern art can safely choose paintings of artists, drawn by gold.
Another variant is a winning sculpture, covered with gold. This could be a classic image or the most extraordinary character of contemporary art.
Golden textiles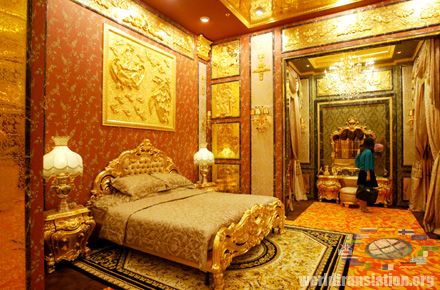 Ocher, light yellow, golden-brown shades with a slight metallic sheen are used in the textiles.
It's quite easily to arrange a " golden interior" without gold. Pick up the bedclothes, upholstery of furniture, curtains, bedspread and pillows of the golden gamma.