Sumatra: Тoba lake.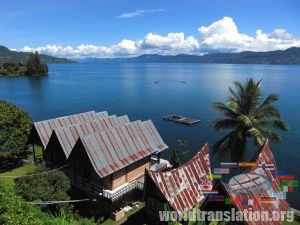 The main attraction of Sumatra is Lake Toba, which is considered the world's largest volcanic lake.

Lake Toba is located in the central part of northern Sumatra. The distance of 200 km divides the lake from the equator. The lake was formed in place of the collapse of calderas of the 3 volcanoes. The shape of the lake Toba is like a ring - in the middle of the lake is lokated the island of Samosir, which was formed during the extrusion of lava from the crater of the volcano.

Today, the island of Samosir gradually turns into a volcanic dome. Moreover, it is considered that it is the largest volcanic dome in the world today. In the past, Samosir was a peninsula, but in 1906 the Dutch dug a canal, and it turned into an island.

District of Lake Toba is the most seismically active place in the world. It is believed that the eruption of the Toba volcano led to the beginning of the Ice Age.