Site Opinion tell us how Ukraine and Ukrainians live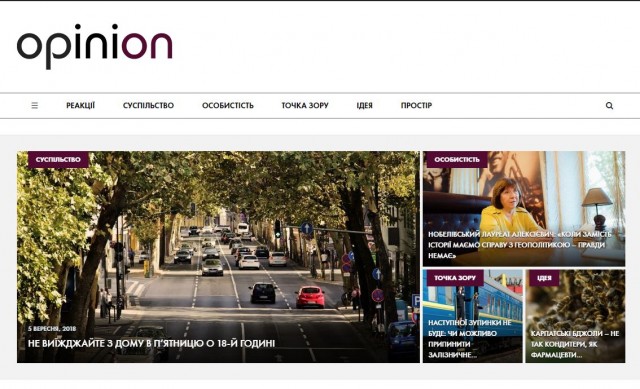 Successful Ukrainian language edition which tells about the most actual, controversial and discussed topics from the different parts of Ukraine. The authours of the magazine share ideas, publish facts, forecasts and impressions.
Here you will find non-standard thoughts, different opinions and emotional reactions to the most important events from the top experts, thinkers and famous personalities.
The purpose of the magazine is to tell the world how Ukraine lives and develops in different industries and from different points of view. Reactions, Societies, The point of view, Personality, Column, Idea - This is the main platform of the site that comprehensively covers important, interesting and extraordinary events, places and people.
The website publishes exclusive interviews about Ukraine's reforms and laws, sensitive issues about medicine education and ecology.
Additionally, we also reveal the themes of Ukrainian poets, culture and art. Journalists highlight events through the prism of reactions and reflexes of deputies, responsible persons, leaders and experts. "Opinion" publishes the most detailed weather forecast in Ukraine. The editorial office essentially? does not publish materials that contain pronounced negative content which violates the laws of Ukraine, influences national, religious or any other hostility.
"Opinion" is a new, honest and present-day view of Ukraine from the talented journalists, leading experts and thinkers.