Parquet floors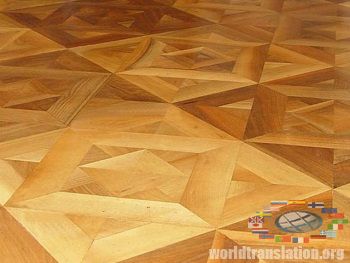 Currently in construction there is a huge range of materials for flooring, among which everyone will be able to find exactly, that which he will like.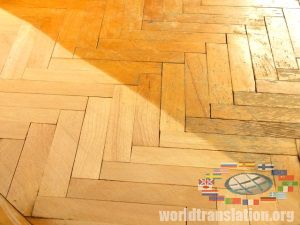 But the best option at all times were considered floors made of natural wood ( parquet floors).

Parquet floors are famous for their variety: parquet boards and panels, piece and mosaic and artistic parquet, production of which is conducted according to modern technologies from selected oak, maple, ash, beech and other hard wood.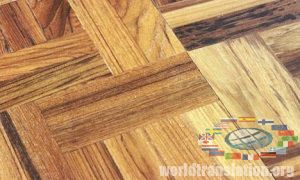 Parquet boards are made of the upper facial layer of wear resistant woods, which are glued on the base of rails. The standard size of parquet boards: length - 120-300 cm and width - 15-20 cm. Facial component of board consists of hard wood planks (oak, beech), the base can also be made of "non-business" wood. In the production process facial side of the board is polished and varnished.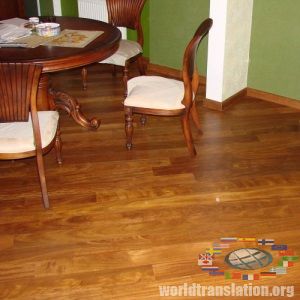 There are dual-layer and three-layer parquet boards. The basis for the two-layer boards serve milled bars or boards, the top layer consists of identical rectangular strips. The layers are glued to each other with waterproof glue, manufactured by using synthetic resins. Three-layer parquet boards are composed of three layers: the top facial, middle and bottom (base). The top layer - planed ​​veneer, having a thickness of 3-6 mm, the middle layer is made from pine rails (width of 40 mm, thickness of 5-15 mm), the bottom layer - fir or pine ​​veneer (thickness of 2-2.5 mm). All layers are glued together with waterproof glue.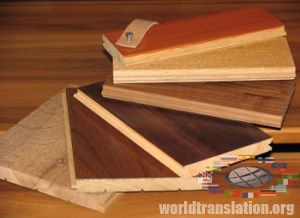 Parquet boards should be laid on logs on wood joists or on the sand on concrete floor overlappings in accordance with the selected pattern. Further processing of parquet boards after laying on the floor is not needed, it is recommended only to put varnish or other clear coating over it.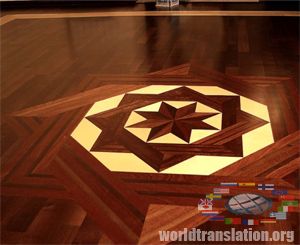 Mosaic (precast) parquet is one of the most popular parquet floors, both in Russia and far and near abroad countries due to its performance and aesthetic characteristics: ease of fabrication, economy industriality, accessibility, decoration and other. Mosaic parquet is a rectangular parquet blocks, that are collected into a carpet, which has a square shape (40x40 and 60x60 cm). While laying this type of parquet, keep in mind some of its features: using of strips of the same thickness and the presence of ideally flat surface (cement-sand screed). Planks are also made mainly from wood wastes. From an aesthetic point of view the use of this type of flooring allows architects to approach to the composition of pattern more individually.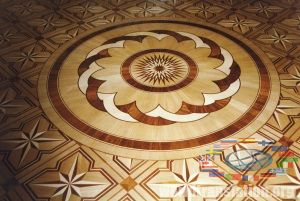 One of the most traditional and expensive high quality floor coverings is a piece parquet, which consists of bars of rectangular shape and has the comb or groove on the edges, which are designed to create the unity of conjugation when laying. Front side of planks is polished, scrape and apply a special parquet varnish. As the base can serve wooden, concrete, magnesite and other types of coatings. Planks are fixed to the base with nails ( wooden and magnesite bases) and synthetic glues and mastics. Piece parquet does not meet requirements of industrial production, the process of manufacture and laying is labor intensive, the resource base are the valuable woods.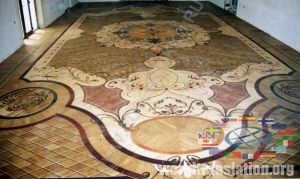 The last kind of parquet flooring is artistic parquet, production of which is conducted on special drawing in the form of square or rectangular shields. The frame made ​​of wood bars serves the basis for laying of artistic parquet (mainly coniferous breeds) width of 11 cm and a thickness of 5,5 - 6,5 cm. As the top layer is used the "valuable" wood (hard wood). Along with well-known for the production of parquet wood are also used: apple, pear, cherry, walnut, cypress and others. To get a beautiful original pattern (a combination of various geometric elements, vegetal ornamentation) are used: black ebony wood, pink amaranth, mahogany, lemon tree.