Interior: Mosaics.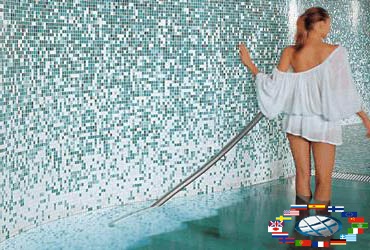 Mosaic - is facing material, which has a long history, it is more than two thousand years old but, nevertheless, it has not lost its popularity. This is not surprising, since the surface, lined with colorful mosaics, captivates with its precious shine, conquer by mysterious charm.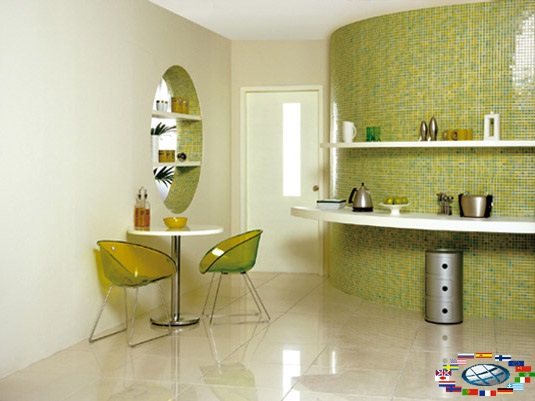 Previously for the production of mosaic were used smalt (glass of natural origin the color of which depends on the mineral ingredients included in the structure) or marble. Both variants were considered inaccessible for middle class, decorate their homes with mosaics could only rich and famous people. But years have passed, and the technology of production has profoundly changed.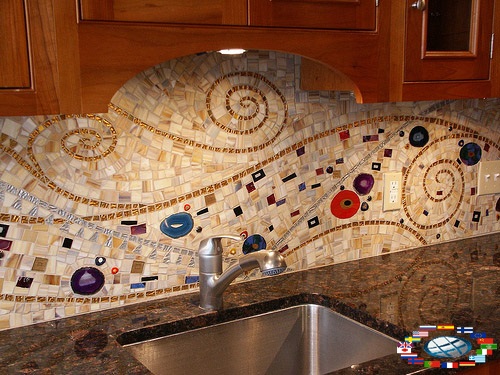 Now the cost of a square meter of mosaics can be compared to the cost of a square meter of tile. Contemporary mosaics is usually made ​​of artificial glass, to which is added mica if its necessary. Of course, the quality of artificial glass can not be compared with the quality of the natural, but nevertheless artificial mosaic is durable and resistant to moisture as well as natural.


Traditionally mosaics is used for interior design, but it can be very useful in some other cases. So, when it comes, for example, about suburban or countryside pools, then mosaic decoration will cost much cheaper then tile. In addition, the mosaic is more durable and allows to avoid rough seams due to the small size. In contrast to the large tile, relief surface of mosaic coating excludes slipping.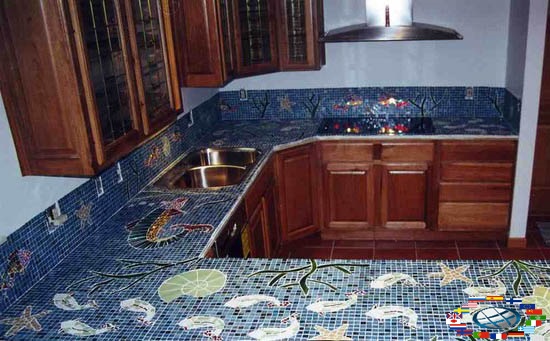 Mosaic is not used only for walls, it is also often used for decoration of the floors. It is resistant to various chemical attack, abrasion, appearance of fungus. Most often its used to revet bathrooms, kitchen aprons. It negates the coldness of tiles and brings to the interior some spice.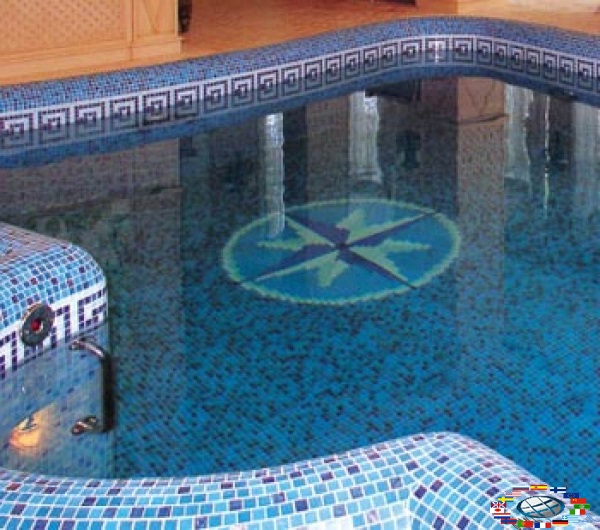 Separate inclusions of mosaics in tile finishing is not less popular. Such variant is considered more economical, in addition, it allows you to focus on specific zones of the room. Often mosaic is used to revet sills, columns, openings, it is suitable for fireplaces finishing, constructions which close the space under the bathrooms. Also mosaic is considered quite original decision for updating old furniture. The cover of rarity commode or aged tabletop can be reveted with mosaics.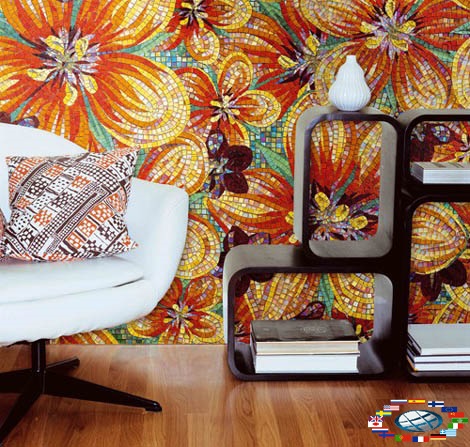 Mosaic perfectly complements interiors, which are performed in a retro, vintage and ethnic styles. It is considered the traditional material for Moroccan interiors, but also looks good in the ultramodern rooms
Selecting color gamut of mosaics, its important to take into account all colors which were used in interior. In order the surface, lined with mosaics does not look boring, the main color should be combined with more contrasting tones. You can also use a mosaics of one color, but of different shades.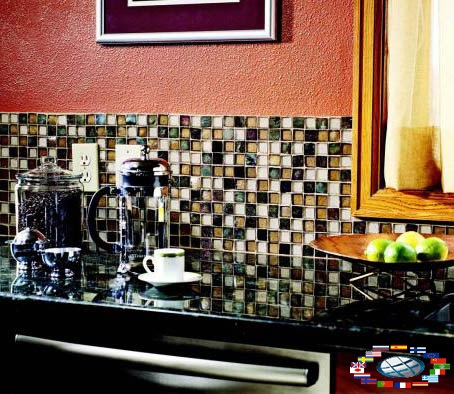 Like other finishing materials, mosaic has several disadvantages. First is the price. For the product from reputable manufacturers you will have to pay a round sum, and the quality of cheaper mosaics will satisfy far not everybody. Second, the complexity of the laying. Of course, with small areas can cope, even those who have no experience in construction, but its better to address to the professionals for finishing of large areas. Naturally, that such work would be more expensive, than ordinary laying of tiles.
Video: "Mosaics in the interior"
To add comment, please, authorize.
Authorize using